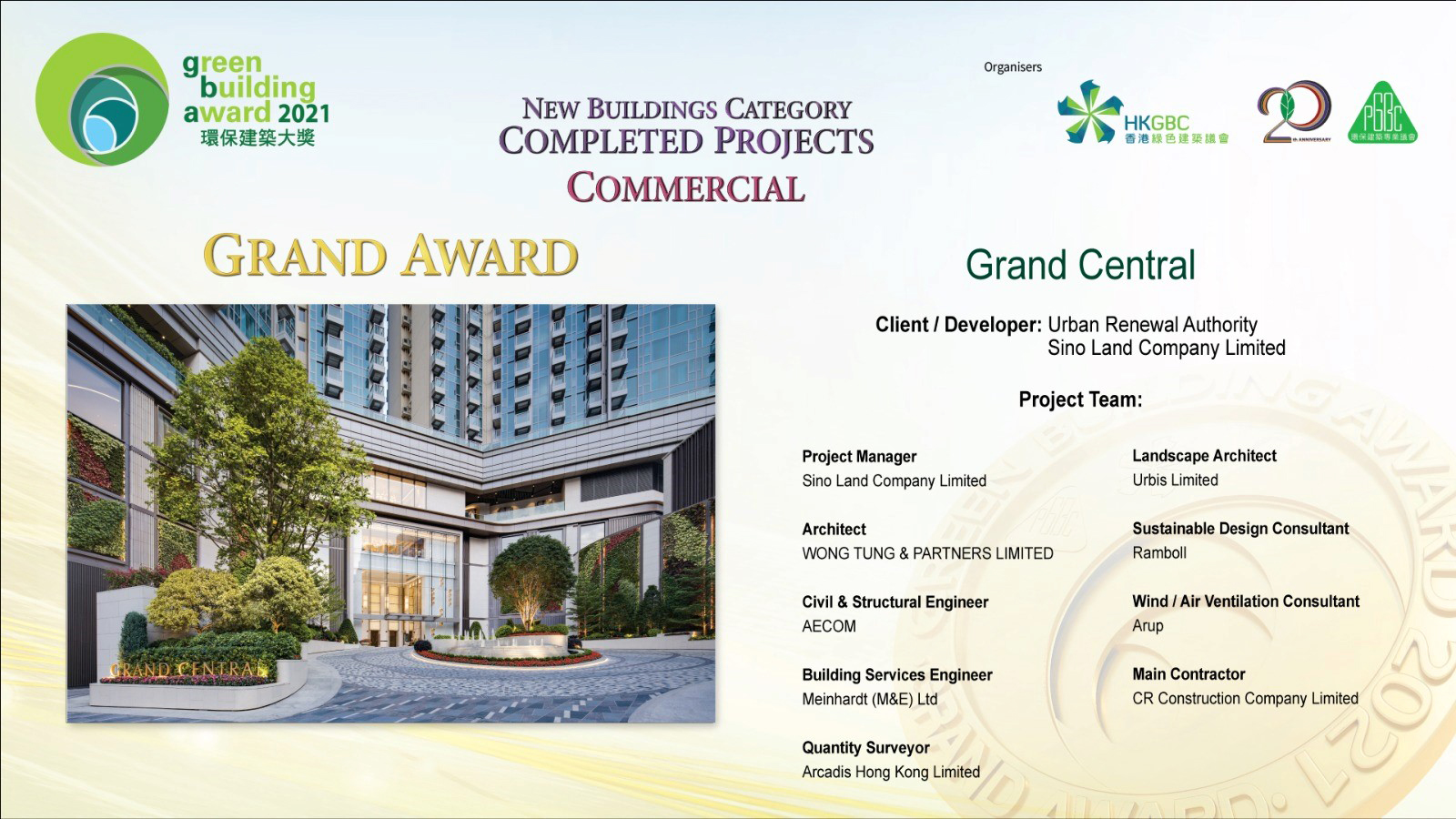 We are pleased to announce that the Green Building Award 2021 – Grand Award (New Buildings Category Completed Projects -Commercial) has been awarded to our project, GRAND CENTRAL. The annual Green Building Award is jointly organized by the Hong Kong Green Building Council and the Professional Green Building Council.
Environmental sustainability is a core theme since the evolution of the project, from environmentally friendly construction methods to innovative sustainable design approach, the project team strives to enhance and bring in environmentally friendly elements to an aging neighbourhood and promote sustainability culture in an urban scale, from commercial to residential.
Being the largest urban re-development project in Hong Kong, it provides more than 4000 sq.m of elevated Greenery together with smart features place around, is open round the clock for the enjoyment of the public. Besides for the enhancement of the proposed development, it also aims to elevate the environmental consciousness of the aging Kwun Tong community and educate the public on sustainable green living and wellness, influencing future re-developments to be more aware of environmental sustainability.
The elevated Greenery not only provides air purification, noise reduction and a minimum 34m wide wind corridor, having set back from streets also improves air ventilation.
Meticulously designed noise barrier mitigates carriageways and railways noises from nearby MTR. Early planning with BIM reduces construction waste, prefabrication minimizes wastage of formwork. Material and prefabrication locally sourced helps to reduce carbon foot print.
Custom made air induction units have been designed to direct more fresh air into the mini-bus terminus with 4 times the normal airflow. We also have designed the first ever indoor air-conditioned waiting area for bus terminus in Hong Kong.
Thank you to our clients Urban Renewal Authority, Sino Land Company Limited and Chinese Estates Holdings Limited for bringing such a great opportunity to the project team, to contribute to the proposed development and the Kwun Tong neighbourhood at large.